Due to COVID-19 Concerns, the 2021 State Tournaments will be held virtually. As a result of the virtual format, scores will not be available until the completion of the competition.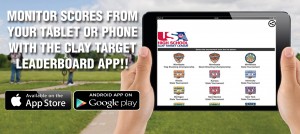 The Clay Target Leaderboard is the New York State High School Clay Target League's EXCLUSIVE tournament score-tracking system!
You can keep track of your scores, tournament standings, and individual awards as scores are entered!
Visit claytargetleaderboard.com on your desktop computer or download the mobile apps now!